These are the most common words in my collection! I removed a few of the boring ones like partial matches of "war", that doesn't necessarily mean anything, but if "War" as a standalone word is in the card title, I feel like that means a bit of something about its identity being similar to other such cards. Also no guilds like temur/azorius, but yeah. If I make a list of cards that only include these words, I get a 363-card cube, a little red/green heavy, a little low on blue, but like, the mana curves look fine!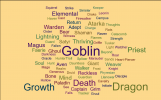 Might be interesting to do a deeper search that includes all the oracle text, but there'd be a LOT of boring words to filter out, like damage or tap.
Oh and i used worditout.com - looks like this when you're editing

What would yours look like?
Last edited: