By: Jason Waddell
Today I had my first hands-on session with Android: Netrunner, a revamping of a two-player card game originally designed by Richard Garfield in 1996. The game's "cyberpunk dystopian future" setting is hardly original, but is one that I have a personal affinity for. Neil Stephenson's "Snow Crash" ranks among my favorite works of fiction, and if you haven't read it, I give you the same recommendation I received from a friend: just read the first two chapters. You'll be hard-pressed to find a more intense section of prose about pizza delivery.
Netrunner's theme is intertwined with its asymmetric two-layer design, with one player assuming the role of the Corporation defending servers, and the other playing as a Runner attempting to steal information (Agendas) from said servers. Per Wikipedia: "The Runner's goal is to gain 7 or more points by hacking into the Corp's computer network and stealing agenda cards; the Corp's goal is to gain 7 or more points by activating agenda cards."
The crux of the design hinges on the fact that Agenda cards are found only in the Corporation's deck. The runner must interact with the opponent's deck to win, which is a refreshing change from Magic, where gameplans are often more proactive and self-focused in nature. The cards and mechanics in Netrunner are very opponent-focused. The decks can't be goldfished.
The emphasis on interaction is amplified by a hidden-information mechanic. The Corporation's cards are played to the table face-down, and can be turned face-up by paying a "rez" cost at any point in time. Enter bluffing. Let's take a simple example:
Say the Corporation holds three cards: a trap, an Agenda, and a defender (ICE).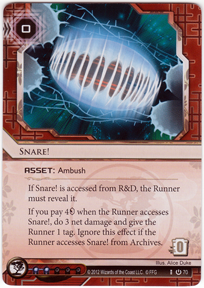 The Corporation may, for example, play both the trap and the agenda card face down, then place a face-down defender (ICE) in front of one of the cards. Which do you defend? On the following turn, the Runner could choose to spend an action to make a run at either card. The undefended card will be accessed immediately, whereas the runner risks suffering damage if they attempt a run on a card with ICE in front of it. Intuitively, the defended target appears to be of greater value, but it could all be a ruse. It's a familiar quandry:
VIZZINI: But it's so simple. All I have to do is divine from what I know of you. Are you the sort of man who would put the poison into his own goblet, or his enemy's? [pauses to study the MAN IN BLACK] Now, a clever man would put the poison into his own goblet, because he would know that only a great fool would reach for what he was given. I'm not a great fool, so I can clearly not choose the wine in front of you. But you must have known I was not a great fool; you would have counted on it, so I can clearly not choose the wine in front of me.

MAN IN BLACK: You've made your decision then?

VIZZINI: Not remotely. Because iocaine comes from Australia, as everyone knows. And Australia is entirely peopled with criminals. And criminals are used to having people not trust them, as you are not trusted by me. So I can clearly not choose the wine in front of you.
Of course, it's not a pure random guess. The game state and style of the opponent will both factor into the reasoning. And like Poker, I suspect it's important to mix-up your play, lest you establish a play pattern that can be easily exploited. Game Designer David Sirlin often refers to these types of decision states as "Yomi", and while some perceive this mechanic as mere "Rock Paper Scissors", tournament game scenes have established Yomi as a skill you can exceed at well beyond the rate of chance. Games with Yomi also have a certain playfulness to them, which are well suited to repeated play with a friend. There is no mathematically optimal line. It's a dance that can be played out time and time again, with some real emotional satisfaction to be gained from timeless "Gotcha" moments.
Although, I must confess, this is all a bit of conjecture on my part. Before you "unlock" the mind games, you must first become proficient with the game's basic mechanics and flow. There's nothing like learning a new game to remind you of how complicated modern games can be. Even after thouroughly reading the rulebook and digesting a couple YouTube videos on how to play, I was still rather lost in my opening games. Although thematic, the game's terminology isn't doing a newcomer any favors. Your hand, deck and discard pile are called "HQ", "Research & Development", and "Archives" if you're the Corporation, and "Grip", "Stack" and "Heap" if you're the Runner. Not that the names really matter, but every little thing increases the barrier to entry for a newcomer.
While the game does offer deckbuilding possibilities, it thankfully comes packed with 7 preconstructed decks (3 Runner, 4 Corporation). This allows for 12 unique match-ups, which feels rather generous (cost aside) when compared to a game like Blue Moon that includes only two decks out of the box. Further, the rules recommend newcomers start with the "Shaper" Runner deck and the "Jinteki" Corporation deck, presumably for ease of access. Even with these considerations, there are still intimidating factors. Take this card: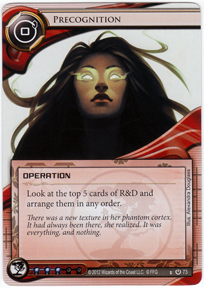 (Card art by Lexxy Douglass, contestant on Penny-Arcade's Strip Search)
As a first timer, Precognition made me anxious. Casting it meant I would have to read through five new cards, try to process their strategic value and rearrange them in a profitable way. It was too much. In Cube I relish my instant-speed Brainstorms and assorted library manipulation affects, but here I experienced negative emotion when I so much as drew the card. I didn't want to waste a move casting it. I'm sure this will change, but it's interesting to see how different things look at different levels of experience as a player. Players can tolerate all sorts of complex cards, decisions and mechanics, but they have to get there in baby steps. This is something Wizards has shown great mastery of over recent years, with an entire pipeline of products and formats designed to ease players into the game. Sometimes as cube designers it's easy to lose an appreciation for just how far we've progressed from the day we first encountered Magic.
And when it comes to games, first impressions are everything. I played Netrunner for about 90 minutes today, and lord knows I've given up on dozens of games in far less time than that. As far as Netrunner is concerned, I'm itching to play again, and hope I can track down a friend to play with me tomorrow. There's a wealth of depth to this game that I've only scratched the surface of, and I can't wait to test-run the remaining five starter decks. Best of all, Netrunner is a so called "Living Card Game", which means that the base game and all expansions are non-collectible. Netrunner has been on the shelves for just over a year, and you can pick up the core game and all its expansions for about the price of a Tarmogoyf.
Discuss this article in our forums.