By: Dom Harvey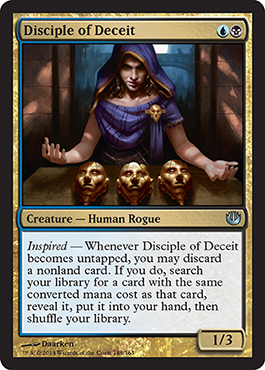 Disciple of Deceit is one of the most interesting and potentially dangerous cards in the new set. It doesn't do good work in every deck the way something like Banishing Light does, but it's a strong centerpiece to a certain archetype.
Its most natural home is the UB Heroic deck unveiled by Ken Yukuhiro at GP Beijing:
Disciple hits every right note in this deck. It's another excellent 2-drop in a deck that desperately wants to draw Pain Seer, it smoothes out the inconsistencies in your draws that occur often when you need certain types of ingredients every game (heroic/inspired creatures + tricks), and it's even a Human for Xathrid Necromancer!
With all your cards clustered around a few spots on the mana curve, you're likely to have the ideal casting cost in your hand to tutor up whatever you need. You would much rather have a Pain Seer and a Hidden Strings than 2 Pain Seers or 2 Hidden Strings, and Disciple lets that happen. Your threats vary widely in utility between matchups – Xathrid Necromancer is fearsome against Esper but useless against Mono-Blue whereas Agent of the Fates is a Trained Armodon against control and a wrecking ball against creature decks, and with Disciple you can transmute one for the other.
The Inspired ability means you can trigger this card off of things you want to be doing already – Triton Tactics, Hidden Strings, Boon of Erebos (where the tapping part of regeneration is actually an upside), and Springleaf Drum. In particular, you can 'go off' with Hidden Strings, searching up further Hidden Strings/Triton Tactics and turning Springleaf Drum into Dark Ritual or Retraction Helix into Turbulent Dreams.
Previously, it was hard to justify maindecking the likes of Thoughtseize or Ultimate Price because drawing them would mess up your already flimsy draws. Now, there's merit to having even single copies of various 'answers' to tutor up at will. Against Esper, you can convert a useless Triton Tactics into Thoughtseize for the Jace or Verdict they're relying on; against an otherwise unbeatable Master of Waves, you can find removal to save the day. This effect is augmented in post-SB games, where your deck is configured to have all the answers you might want; Disciple can feed you a steady stream of Thoughtseizes or Negates against control, or Ultimate Prices against aggro.
So, how do we tweak the deck to make use of Disciple? Immediately we'll want 4 Springleaf Drum, which was the key to your best starts before and is even more crucial now. We get to cut Tormented Hero, which was often by far the worst card in the deck, and possibly play other 1-drops like the remaining Nivmagus Elementals or Judge's Familiar (a good safeguard against removal and an ideal cipher enabler for Hidden Strings); then again, with consistent access to Hidden Strings, draining them out with Hero is more realistic. We can play a Trait Doctoring as a 1-mana Hidden Strings analogue (see its use in Greg Hatch's UWR Heroic deck), and shave an Artisan or two.
The deck doesn't gain too much else from the set – there might be a Heroic deck with Battlefield Thaumaturge, though it would look quite different – but Mana Confluence is a very welcome addition.
A rough post-JtN list might look like this:
Another less obvious use for Disciple is as a SB threat in Esper for the mirror. Whereas a card like Nightveil Specter gives you scattershot card advantage attached to damage, Disciple offers a more surgical selection of tools. If you can untap with Disciple once you can search for whatever you need to answer their next play, allowing you to attack again, untap again, and repeat the process. If they don't have anything in play, you can turn Detention Spheres into Dissolves or redundant Disciples into Gainsays (and Jace into Scatter Arc if you want to go really deep). If you're under more pressure you can find Detention Sphere (and now, Banishing Light) or Hero's Downfall; and if you want to put pressure on them, you can find another threat (say, Ashiok or Brimaz) and force them to have multiple answers. If you want to cement your hold on the lategame, you can turn Detention Spheres and Dissolves alike into Sphinx's Revelations! Disciple also lets you hedge against their sideboard plan – before, a player who loaded up on countermagic could be blindsided by creatures; now, a useless Gainsay can become the one Devour Flesh that you left in for that situation.
Lastly, the 1/3 body is surprisingly relevant now that Mono-Black Aggro has twelve 2-power 1-drops and the format will be infested by Confluence-powered aggro decks – Disciple blocks Ash Zealot or Voice of Resurgence all day long.
The card isn't so great in a Cube setting, which is unfortunate given the purpose of this fine website, but as a Constructed card this has me very excited.
Discuss this post in our forums.