By: Dom Harvey
Nykthos quickly proved its worth in Standard, and Modern offers a wider variety of enablers and cards to ramp into. It's a subtly well-designed card – there's an inherent tension between playing the cards that maximize its effectiveness, which have heavy colour requirements, and playing colourless lands like Nykthos that don't help you cast them. This tension is particularly acute in Modern, where it competes with the likes of Tectonic Edge/Ghost Quarter and Mutavault for space. Nykthos also draws you away from some of Modern's hallmark cards (Dark Confidant, Tarmogoyf, Snapcaster Mage, and so on), which define the format in part because they're easy to cast with conventional manabases – Confidant at BB or Goyf at GG would still be strong, but not the all-stars they are today. Still, Nykthos offers a peculiar form of acceleration to colours that don't typically have access to it, giving rise to previously unexplored 'ramp' strategies in white, blue, or black, and is therefore one of the more interesting cards in a long time.
If we're going to make Nykthos work, we need a few things:
It has to vault us up the curve; just using it to gain an extra mana or two on turn 4 or whatever isn't going to cut it, given the sacrifices the card demands. If we're using it as an ersatz City of Traitors rather than a centre piece, the deck's main strategy must be competitive.
The deck can't fall apart if it doesn't draw Nykthos. There is good land tutoring available in Modern – Tron favourite Expedition Map comes to mind – but taking a turn out to find a Nykthos stops you filling the board and adding to your devotion count. If we're going far enough to Sylvan Scrying for Nykthos, the payoff had better be incredible; and if we're just hoping to draw it.
Ways to 'cheat' the devotion count or add to it quickly and naturally. Burning-Tree Emissary is one of the few good examples of this.
With that in mind, let's dive in.
White has solid 1-drops that also double as mana sinks for Nykthos in the form of Figure of Destiny and Student of Warfare, alongside the usual crew of Steppe Lynx and friends. There is a wide selection of WW hate-bears that are good at hosing various decks: Auriok Champion, Grand Abolisher, Leonin Relic-Warder, Samurai of the Pale Curtain, and so on. Mirran Crusader is a solid curve-topper against the B/G/x menace and generally wins games by itself. Eight-and-a-Half-Tails is a wannabe Thassa with Nykthos, but is painfully clunky otherwise and doesn't actually work well with Nykthos on defense. Knight of the White Orchid is WW and helps you keep pace on the draw. With Figure and Student, Ranger of Eos is perfect for grinding out U/W/R Control and B/G/x. If we're willing to touch other colours, Knight of the Reliquary fills the 3 CMC spot on the curve while finding Nykthos (and Flagstones, Horizon Canopy, Sejiri Steppe etc.) and powering up Steppe Lynx. While a tricked-out White Weenie deck may seem unimpressive in Modern, white has access to the format's best hate cards – Thalia, Aven Mindcensor, Stony Silence, Rest in Peace, Linvala, Suppression Field – and its most efficient removal in Path to Exile. In short, the best hope for a white Nykthos deck would look like an update of Paul Rietzl's list from PT Amsterdam, though it's unclear that Nykthos adds something the deck wants or needs.
A first pass might look like this:
I saw a streamer try an interesting W/b Tokens variant based around Leyline of the Meek and Auriok Champion, using Nykthos to power out Lingering Souls and other token producers. The idea was self-defeating, since tokens don't help Nykthos and so it's very hard for everything to come together properly, but using Leylines to kick-start devotion sounded appealing. Sadly, most of them are awful. Leyline of Sanctity is decent at what it does, but it's hard to imagine a white devotion deck wanting it; Leyline of the Void is only good as a sideboard card, and even then there's not a popular graveyard-centric deck in Modern. The only one that piques my curiosity is Leyline of Anticipation, which isn't a *good* card but serves a unique purpose. On its own it isn't an incentive to play blue, but the rest of the blue devotion shell is so good that it's an attractive prospect anyway.
Conveniently we have two blue-producing lands that work very well with Nykthos. Minamo nets mana with Nykthos when your devotion is 5 or more and can give 'vigilance' to Thassa or Vendilion Clique; Tolaria West can fetch Nykthos but also Ghost Quarter against Tron, Pact of Negation, and various other useful tools. Crucially, they take up land slots and thus avoid the Sylvan Scrying/Expedition Map problem.
Blue also has some of the best devotion cards. As Mark Rosewater has remarked, the lack of focus on devotion in blue was undermined by its two devotion cards vastly outperforming the rest, and that's just as true in Modern. Master of Waves has received attention as a solid high-end card in blue tempo decks that dodges Lightning Bolt and Abrupt Decay alike; Thassa is easy to disable in a format where Path and Dismember are common, and the removal it does evade can snipe the cards that turn her on, but that might be a risk you have to take in this deck. When you're playing 'weak' cards for their devotion contribution, you need your threats to be high-impact and able to end games by themselves, and Thassa fits the bill. The scrying is also very nice for shifting dead Leylines and the like from the top of your deck in the midgame.
As detailed here, blue also has strong 'devotion helpers'. Tidebinder Mage is very well-positioned in a format of Deathrite Shamans, Tarmogoyfs, and Birthing Pods, and Vendilion Clique/Kira, Great Glass-Spinner chain into Master of Waves well. Blue finds nice sideboard cards in this category too, from Threads of Disloyalty against aggro to Jace Beleren against control. The missing piece is a high-quality one-drop – Cloudfin Raptor is the best we have, and nobody's excited to play that in Modern. You'd have to be… ambitious to play Judge's Familiar ('that's two-time Pro Tour winner Judge's Familiar to you!') in any kind of Eternal format. Martyr of Frost or Vedalken Certarch could work given a high enough density of blue cards or artifacts, but even then…
A rough draft:

Alternatively, we can push Grand Architect. Nykthos gives you a backup way to cast whatever you're ramping into with Architect, and both cards allow for explosive starts. Architect requires Phyrexian Metamorph, at which point you have too many 3-drops to keep both Clique and Thassa, but if you have enough creatures in play to turn on Thassa then Architect isn't much less powerful in that role anyway.
A more stable and less devotion-centric build:
This list is reminiscent of the UW Baneslayer deck from Standard a few years ago; the deck is designed to 'protect the queen', with Master of Waves on the throne. Meddling Mage, Spellskite, and Vendilion Clique each do their part to keep Master alive, and with Metamorph it's very easy to double up on any of the 2-drops to lock out certain opponents: double Spellskite against Splinter Twin or removal-heavy decks, double Tidebinder Mage against a green deck, or double Meddling Mage against combo. As before, the deck is capable of some absurd openings, and can draw on the deep pool of sideboard cards mentioned earlier.
Meanwhile, we still have three more colours to get through! People are already experimenting with green devotion – Michael Jacob has been streaming with this: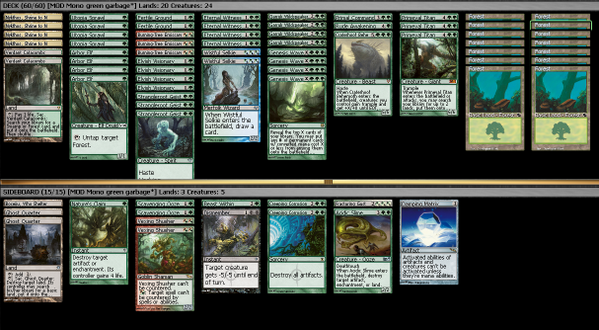 I'd be tempted to try Knight of the Reliquary over Wistful Selkie, as it's a much better card when you don't have Nykthos (and ensures that you will have it in due course) while not being much worse when you do have it (especially since it can fetch a second copy, which gets out of control if your devotion count is 4+ or so). I've seen a few lists splashing Kessig Wolf Run off a Stomping Ground, which is virtually free and adds a lot of upside to Primeval Titan.
Some creative minds have started working on black devotion as well. Sam Black took this to 3-1 in a Daily Event (those of you with SCG Premium can read more about it in his article this week):
Seeing this made me think about a black-heavy Birthing Pod deck I tried about 18 months ago, based on the Zombie Pod decks that were in Standard at the time. I wrote it off as casual fodder but since then the deck has gained Deathrite Shaman and Gray Merchant, among other things. Here's what it might look like now:
This list overlaps a reasonable amount with Black's, but Birthing Pod imposes some structural constraints on the deck. As he notes in his article, Geralf's Messenger is perfect for a strategy like this, and this deck gets to make full use of it. Highborn isn't nearly as effective in this deck; it's possible something like Gatekeeper of Malakir or Nether Traitor is better (or Withered Wretch if we need a BB Zombie). I've chosen white in this deck for Orzhov Pontiff (mainly as a Poddable answer to Affinity, which is unwinnable otherwise) and Restoration Angel, which is an excellent card in general and a wonderful thing to Pod a Messenger into or combine with Gray Merchant, but you could go red for Aristocrat or blue for Image/Exarch. One of the draws of black Pod is the ability to chain Fulminator Mages with Pod by recurring Bloodghast, and the only reason there aren't more Mages is that the 3-drop spot on the curve is already bloated. The MD Abrupt Decays are removal spells for Deathrite Shaman that happen to kill Cranial Plating and such. It's possible that, following Black, you just want to cut them for cards that further your plan pre-SB, and his Viscera Seers and Blood Artists look good in that role.
Adam Koska offers a more conventional take in his article:
Nantuko Shade and Nykthos were made for each other, though pairing them together is a pipe dream in Modern. Then again, it's possible that you can overload an opponent's removal with enough singularly powerful threats – Messenger, Obliterator, 'even' Deathrite Shaman – that one of them will stay around unmolested.
Lastly, we have red. Red's a tricky colour to build around Nykthos with: there aren't many 'good' enablers, and nothing appealing to ramp into. If my reward is Kargan Dragonlord I'd rather just play some aggressive red deck, which wouldn't be good either. Burning-Tree Emissary is excellent, but after that the quality drops off dramatically.
Somewhere in here there's the base for a solid red devotion deck, but getting it right has proven difficult. The Goblins package has been most promising, but I see little reason to play it over the Shared Animosity Goblins deck that pops up from time to time.
If you have any comments about these lists or suggestions of your own, let me know in the forums. Nykthos is a card with tremendous potential, and I've only scratched the surface here.